As you know, I've been fortunate enough to be selected by Mr Fothergill's to trial some of their seeds. I've only recently got into growing flowers, being strictly a vegetable man. However, we've moved to a new house with a small patch of soil in the front garden which is ideal for growing flowers.
Last year, I filled it with a multitude of flowers and it looked fantastic. People were stopping to admire it and bees loved it. I live in a city, so flowers are very few and far between.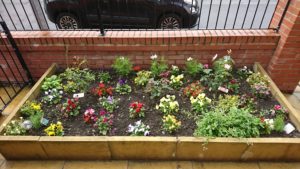 I grew Cosmos last year, a white single head flower and they were particularly lovely and favoured by the bees. One of the seeds I have to trial this year is Cosmos Double Dutch White, which is a double headed flower and looks very interesting.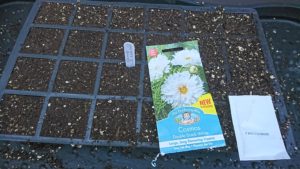 These are planted slightly later than I would normally plant them, but I have to put them in a plastic greenhouse in the garden. Temperatures recently have been extremely cold, so I waited until the worst of the weather had passed before planting them. They are in a propagator with a plastic lid in a plastic greenhouse, planted in a mixture of good quality seed compost and vermiculite.
I have used cheap compost for seeds in the past and found that the germination rate is dreadful. The soil doesn't hold any moisture and tends to dry out far too quickly. Combine that with large lumps of solid material and it does not make for a good environment for germination.
This year, I have included vermiculite to hold a bit more moisture in the soil and prevent the seedlings from drying out too quickly.
Less than a week after the seeds were planted, they have already started to germinate.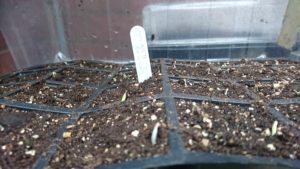 They are doing well and after a few more days I will be able to work out the germination rate of the seeds. They are looking good and I am very excited to see these flower later in the year. Cosmos typically gives a great display of flowers that lasts for several months with dead heading.
You can order your own Double Dutch White seeds direct from Mr Fothergill's here.