When growing pumpkins you can easily end up with a glut of them at which point you are left wondering what on earth you are going to do with all those pumpkins. Of course, you can carve some for Halloween, but there will invariably be some left over.
Rather than go to waste you can make a delicious pumpkin pie out of them, as well as other great dishes. Our American cousins will be familiar with pumpkin pie as it is a traditional dish served around Thanksgiving but in England, it is a less well-known dish.
Pumpkin pie is one of my favorite things to do with the pumpkins I grow, and I usually use a small variety designed for cooking for pie such as Jack O' Lantern as they have more flavor than the giant varieties. Of course, you can use canned pumpkin which is easily found in the USA. In the UK it is almost impossible to find on the supermarket shelves but it can be found in Waitrose. Fresh is best and you can roast the pumpkin, freezing the pumpkin flesh for use later in the year.
To make this pie really tasty, make sure the pumpkin is thoroughly pureed, until completely smooth. Any lumps or stringy bits will detract from the taste and texture.
Ingredients:
500g (1 3/4 cups) Pumpkin – approximately half a small pumpkin) or a 15oz can of pumpkin
3 x 9″ sweet pastry cases (store bought or home made)
397ml (1 tin) sweet condensed milk
2 large eggs
175g or 2/3 cup firmly packed light brown sugar
2 tablespoons white sugar
1 1/4 teaspoons ground cinnamon
1/2 teaspoon salt
1/2 teaspoon ground ginger
1/2 teaspoon ground nutmeg
1/4 teaspoon ground cloves
Method:
1) Cut the pumpkin in half and scrape out the seeds and stringy insides with a spoon (wash and roast the pumpkin seeds or keep for planting next year).
2) Cover a baking tray with foil and grease lightly.
3) Pre-heat your oven to 180C/350F.
4) Place the pumpkin halves face down on the tray and spray with cooking oil.
5) Put the tray in the middle of your oven and cook for between 30 and 50 minutes (depending on the size of the pumpkin) until a knife can be easily pushed through the pumpkin.
6) Remove the pumpkins from the oven and allow to cool until they can be easily handled.
7) Using a spoon scrape out the flesh inside of the pumpkin into a bowl being careful not to get any of the skin.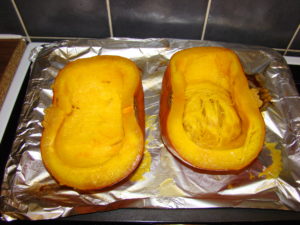 8) If you are not using all of the pumpkin, then allow the excess to cool and then freeze.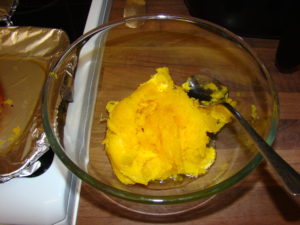 9) Put the cooled pumpkin into your food mixer together with the egg yolks and egg.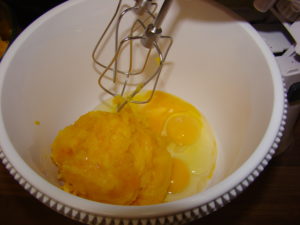 10) Blend for about 2 minutes until smooth. You may have to scrape pumpkin off of the mixers halfway through as it will get tangled in the blades.
11) Add the rest of the ingredients to the mixer and blend for a further 1 to 2 minutes until smooth and thoroughly combined.
12) Preheat your oven to 220C/430F.
13) Put the pie cases onto trays (to catch any spillage) and carefully pour the pie mixture into the cases until full.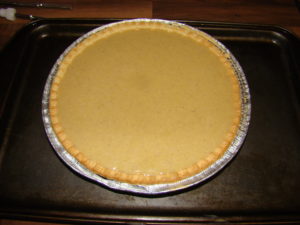 14) Very carefully as it is easy to spill the pie mixture put the trays into the oven.
15) Cook for 10 minutes then turn the heat down to 175C/350F.
16) Cook for a further 40 to 50 minutes until a knife inserted an inch from the edge of the pie comes out clean.
17) Remove from the oven and allow to cool before serving warm with your choice of cream!
Simple isn't it? Plus it tastes absolutely delicious. Enjoy your pumpkin pie, I hope it becomes as popular in your household as it has in ours!