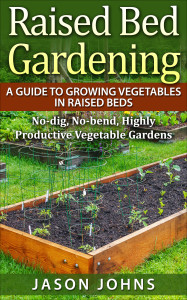 "Raised Bed Gardening – A Guide To Growing Vegetables In Raised Beds" is for anyone who wants to learn more about raised bed gardening; a back and disability friendly way to increase productivity from your vegetable patch!
Raised beds are one of the best ways for you to grow vegetables at home and are low maintenance, easy to plant and highly productive. This book is a complete step-by-step guide showing you exactly how to get started with raised beds in your garden. Whether you want a one or two or want to create an entire vegetable garden of raised beds, you will find everything you need to know in this book.
As you read this book you will find out how much time you can save and how much more you can grow by converting your vegetable garden to raised beds. Of course, if you prefer to grow flowers then a raised bed can be a perfect feature in any garden, built to blend in to the design of your home and look fantastic.

When you read "Raised Bed Gardening – A Guide To Growing Vegetables In Raised Beds" you will discover:
Why Use Raised Beds In Your Garden? – find out why raised beds are so popular and how they can benefit you
Planning and Siting Your Raised Bed Garden – learn what you need to know to plan your raised bed garden to
Materials for Building Raised Beds – discover the different materials you can use to build your raised beds and the pros and cons of each
Building Your First Raised Bed – step by step plans including material and tools lists for building your first raised bed out of wood
The Best Soil Mix for a Raised Bed – learn how to make the best possible soil mix for your raised beds but also one that is in your budget
What to Grow and What Not to Grow In a Raised Bed – find out which plants thrive in raised beds and which ones to avoid … but not for the reasons you may think!
No Dig Gardening With a Raised Bed – discover how to grow vegetables in your raised beds without back breaking digging
Square Foot Gardening In Raised Beds – a great method for boosting your yield by growing more produce in the same area … ideally suited to raised beds

Growing Vertically In Raised Beds – another method for boosting your productivity which works well in raised beds, helping you to use your space even better
Pest Control in Raised Beds – find out how to keep pests under control in your raised beds and why you'll have less of a problem with this gardening method
Weed Control in Raised Beds – this is much easier than you may think and you will find out how to significantly reduce the amount of weeding you need to do
Crop Rotation and Planting Techniques – discover how to maximize the amount of vegetables you produce plus keep pests and diseases to a minimum with this useful gardening techniques
Over-Wintering Your Raised Beds – learn what you need to do over winter to keep your raised beds productive and to minimize work the following season
Raised Beds Tips and Advice – practical advice and tips helping you to make the most of your raised beds
Raised bed gardening is one of the best ways for you to make gardening easier. Your vegetable patch will be much more productive with less work required for digging and weeding as you get more produce out of the same growing area. It's easier on your back and the beds themselves can become a feature in your garden.
Enjoy planning, building and growing in your raised beds as "Raised Bed Gardening – A Guide To Growing Vegetables In Raised Beds" explains all about this exciting and fun way of growing vegetables (or flowers or anything else). Discover today the many benefits of raised bed gardening!
Have a look inside the book today by clicking on the image below and see all the great content: