"Growing Chilies – A Beginners Guide To Growing Using and Surviving Chilies" is for anyone who wants to successfully grow chilies at home. Chilies are a very popular plant, ranging from the sweet bell and banana peppers through to the popular Tabasco and jalapeno peppers through to the scorchingly hot chilies such as the Trinidad scorpion, ghost pepper and the infamous Carolina Reaper.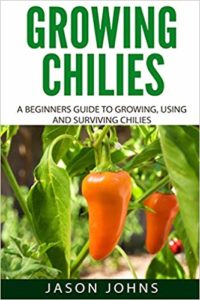 Chilies are notoriously difficult to grow, with many of the hotter varieties being incredibly temperamental and fussy, causing many people exciting to grow hot peppers to struggle to even get the seeds to germinate. "Growing Chilies" is written to provide you with a step-by-step guide showing you exactly how to grow chili peppers at home. Whether you want a mild chili or searingly hot chilies, you learn everything you need to know to successfully germinate seeds and grow the plants to maturity.
When you read this book, you get tips, pointers and advice from a plant expert showing you how to avoid the common mistakes people make when growing chilies plus how to deal with the most commonly found problems.
"Growing Chilies – A Beginners Guide To Growing Using and Surviving Chilies" is packed full of information, tips and advice, including:
The many different types of chili and how to handle them safely – yes, the hotter varieties can be extremely dangerous to handle without precautions!
Discover the most popular chili varieties, including the hottest chilies on the planet
Understand how the heat of chilies is calculated and exactly what it means
Learn what equipment you need to growing chilies – it's less than you might think – plus the techniques expert growers use to produce the hottest peppers
Find out how where you live determines how you grow your chilies, including the best growing methods for your region
A step by step guide to growing chilies from selecting and germinating seeds through to transplanting and caring for adult plants
How to preserve chili seeds for the following year as well as overwinter your plants for an even better crop
Ways to preserve your precious harvest of chilies from drying, smoking, and pickling to making a decorative chili ristra
Understand the common pests and diseases that affect chilies, how to spot them and what to do when you encounter one of these problems
How to grow chilies indoors, outdoors, in containers and even hydroponically
Discover the beauty of the many ornamental varieties of chili, some of which are delicious to eat too
Recipes to make the most of your chili harvest including how to make your own chili powder and sauces
And of course, much more. This detailed guide teaches you everything you need to know to successfully grow your own chilies at home. Whether you are new to chili growing or have tried to grow chilies before and want to know more, this book is for you. With everything from germinating seeds to making chili powder and more, you will be a chili expert when you've finished this book.
Find out today how you can successfully grow chilies at home as "Growing Chilies – A Beginners Guide To Growing Using and Surviving Chilies" teaches everything you need to know to produce a bountiful harvest of delicious chilies at home, even if you've never grown a chili before!