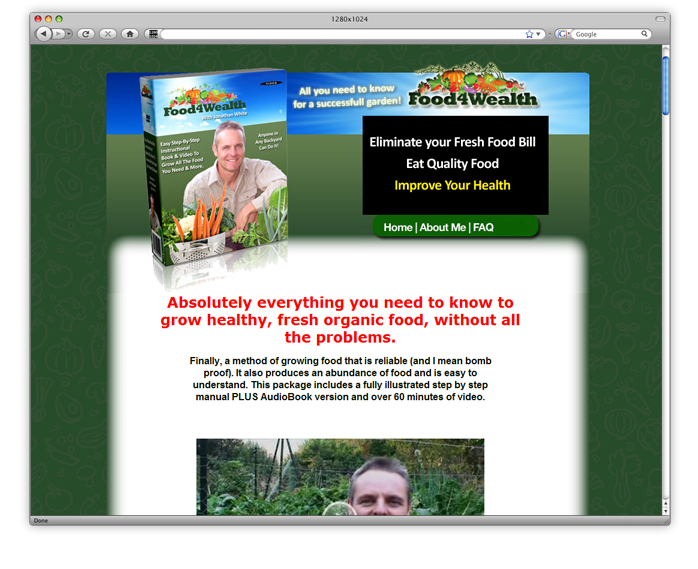 Absolutely everything you need to know to grow healthy, fresh organic food, without all the problems.
Finally, a method of growing food that is reliable (and I mean bomb proof). It also produces an abundance of food and is easy to understand. This package includes a fully illustrated step by step manual PLUS AudioBook version and over 60 minutes of video.
After reading and watching Food4Wealth you will know how to:
*** Set up a garden that produces many times more than a traditional vegetable garden
*** Set up a garden that only requires 8 hours of light easy effort per year
*** Grow food that you can harvest every single day of the year, no matter where you live
*** Set up a garden that NEVER needs digging
*** Set up a garden that naturally REPELS PESTS
*** Set up a garden that has virtually NO WEEDS
*** Grow vegetables and fruit ORGANICALLY
*** Grow food in any soil, ANYWHERE IN THE WORLD
*** Collect your own SEEDS
*** Grow your own established seedlings – for yourself and to sell
*** Grow more food than you need and sell the excess
*** Grow the tastiest, fattest tomatoes, lettuce, carrots, potatoes, celery, zucchini, pumpkin, cucumber and more!
*** Fertilize your garden for free using waste from your household
*** Produce food in the world's most environmentally and ecologically friendly way
*** Create a garden that regenerates all by itself, year after year
From Jonathan White – Environmental Scientist and Horticulturalist and creator of Food4Wealth:
Hi, my name is Jonathan White. Here I am in my garden surrounded by fresh, healthy organic carrots, lettuces, tomatoes, zucchinis, celery, spring onions, swiss chard, baby spinach, parsnip, cucumber, potatoes and pumpkin. A week earlier I pulled out some delicious sweet corn plants that had finished, and in their place tiny broccoli, cauliflower, and chinese cabbage seedlings are emerging, in perfect time for the winter crop…

…without me planting a thing – they just came up by themselves.
This method is based on ecology, and not horticulture. You see, the problem with horticulture is that it is problem-focused. Have you noticed that gardening books are filled with ways to fix problems? People seem to love creating problems where problems don't need to exist. Well, it doesn't have to be that way!
In my experience, the study of natural ecosystems reveals everything we need to know about growing food. After all, Mother Nature has been doing it this way for millions of years.
From my own results I can say, with absolute certainty, that this is the way we will be producing food in the future. It's just commonsense. Why wouldn't the world want to use a method that produces many times more food with a fraction of the effort? The biggest challenge is convincing traditional gardeners. Like many industries, the gardening industry gets stuck in doing things a certain way. And for many dedicated veterans, it can actually be quite threatening when an embarrassingly simple solution comes along.
And that's exactly what this method is – EMBARRASSINGLY SIMPLE.
Read More….