Thank you for your interest in my free book.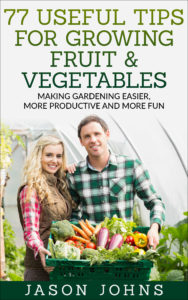 Enter your name and email address in the form below to get your free gardening tips book sent direct to your email address. Containing 77 of my best tips to help make growing vegetables easier and less work this free book will help you avoid the common pitfalls people make in the gardens.
In this book you get some great tips including:
The easiest way to keep weeds down and your plot looking neat – it's a lot less work than you may think!
My best method for maximizing your productivity whilst minimizing your work
How to get more fruit and vegetables from your plot without needing more space
The best time to water and how to avoid the dreaded powdery mildew on your squash plants
Which types of vegetable seeds to buy for the best taste
How to stop pests and diseases taking over your vegetable garden
An easy way to completely avoid potato blight
How to enjoy vegetable gardening even more!
As well as all this you will get regular updates as well as notifications and discounts on my new and existing books, including free promotion days.
Simply enter your details below and I'll send you your free book straight to your email address.